Strawberry Ice Cream Cheesecake Recipe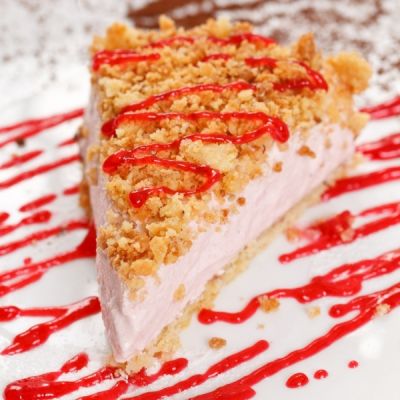 A Sweet recipe for strawberry ice cream cheesecake. Serve with fresh strawberries.
Ingredients
Strawberry cheesecake icecream
8 oz. cream cheese (at room temperature)
juice of 1 lemon
1 t. vanilla
1/2 c white sugar
2 cups half and half
2 sups strawberries, crushed
For the crust:
2 cups graham cracker crumbs
1/2 cup melted butter
1/3 cup sugar
Directions
Preheat oven to 400 degrees F
To make the crust – combine the graham cracker crumbs, melted butter, sugar and press 3/4 of mixture into a pie plate. Bake for 10 minutes. Allow to cool completely.
To make the ice cream – using the whisk attachment of an electric mixture whip the cream cheese until smooth. Add in the sugar and strawberries slowly, until incorporated. Add in the vanilla and lemon juice. Slowly add in the half and half until the mixture is smooth. Chill for 30 minutes to an hour. Freeze the base in an ice cream maker until the mixture reaches a soft serve consistency.
Spoon ice cream into cooled graham cracker crust and smooth out the top. Sprinkle remaining crumble oven top. Cover in plastic wrap and freeze at least 4 hours.
To serve, remove from freezer – if pie is too hard let sit for 10 minutes. Top with strawberries or strawberry sauce.