Strawberry Pops Recipe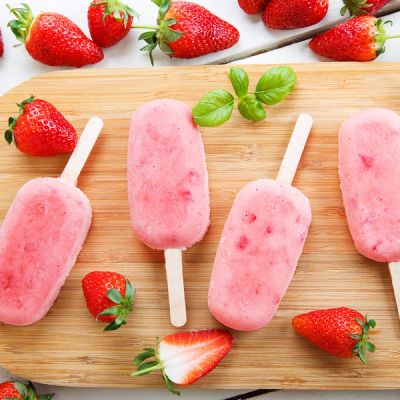 This strawberry pops recipe is a healthy choice for the kids. They are easy to make and you can feel really good about this treat.
Ingredients
1 pound fresh strawberries, hulled
1/3 cup honey (more or less to taste)
2 teaspoons lemon juice
2 cups natural yogurt
Directions
You will need popsicle molds to make these yummy treats.
Place the strawberries, sugar and lemon juice in blender. Turn on a puree until smooth.
Add the yogurt and mix in.
Do a taste test. If you want it sweeter, add more honey blend in.
Fill each pop mold with the mixture.
If your molds don't have a built in plastic stick then place a piece of plastic wrap over the popsicle holder and poke holes to insert wooden sticks into the centers.
This will hold the sticks in place.
Freeze for several hours or overnight.