Strawberry Sauce For Cheesecake Recipe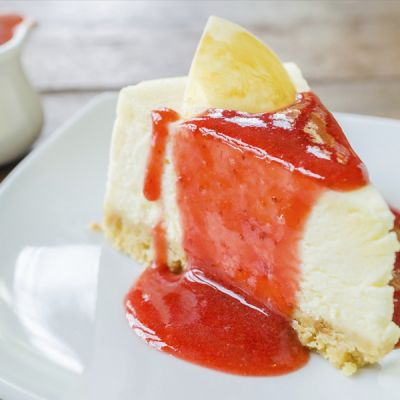 The classic cheesecake goes well with a homemade strawberry sauce recipe. This recipe gives you both the strawberry sauce and the cheesecake with a vanilla crumb crust.
Ingredients
Strawberry Sauce
2 pounds ripe strawberries, hulled
1/2 cup granulated sugar (more or less, depending on the sweetness of the strawberries)
2 teaspoons cornstarch
1/2 lemon, juice of
1 pinch salt
Crust
1 cup vanilla cookie crumbs (or graham crumbs)
1/4 cup granulated sugar
2 tbsp butter, melted
Filling
2 pkg (each 250 g) cream cheese
3/4 cup granulated sugar
3 eggs
1 Tablespoons lemon juice
2 teaspoons vanilla
1 Pinch salt
3 cups sour cream
Directions
Strawberry Sauce
Make the sauce ahead of time and refrigerate.
Take the stems off the berries and wash them.
Chop them in quarters.
Place the berries into a medium saucepan over medium-low heat.
Stir in the sugar and stir gently until sugar dissolves and berries are soft.
Add the cornstarch, lemon juice and salt and cook on low for about 10 minutes.
Remove from heat and cool a little.
Place into a blender and pulse until creamy smooth.
Crust
Preheat oven to 325 degrees F.
Grease an 8-9 inch springform pan.
In bowl, stir together crumbs, sugar and butter until well moistened; press onto bottom of springform pan. Bake for 8 to 10 minutes or until set. Let cool.
Filling
In large bowl, beat cream cheese until softened. Gradually beat in sugar until smooth, On low speed, beat in eggs, 1 at a time. Blend in lemon juice, vanilla and salt, then sour cream. Pour over crust.
Set springform pan in larger pan; pour enough hot water into larger pan to come 1 inch up side of springform pan.
Bake for 1 1/4 hours or until edge is set and centre still jiggles slightly. Turn off oven. Run knife around edge of cake. Let cool in oven for 1 hour. Remove from water and transfer to rack; remove foil and let cool completely.
Refrigerate for at least 4 hours or overnight before eating.
Assembly
Remove the springform from the cheesecake.
Slice and pour strawberry sauce over each piece as you serve it.