Streusel Cake Recipe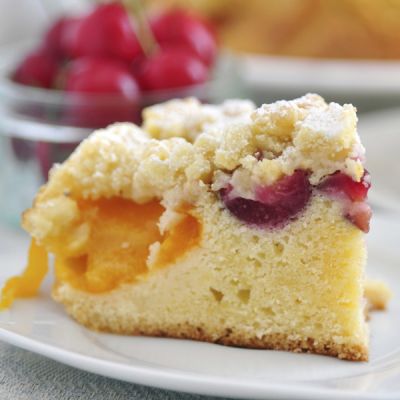 This streusel cake is made apricots and cherries and a delicious topping.
Ingredients
Streusel
1/3 cup all purpose flour
1/3 cup granulated sugar
1/2 teaspoon cinnamon
1/4 cup cold unsalted butter, cut into small cubes
Cake
1 cup all purpose flour
1 teaspoon baking powder
1/8 teaspoon salt
1/4 cup unsalted butter, at room temperature
1/2 cup granulated sugar
1 egg
1/3 cup milk
1 cup cherries, pitted and halved
1 cup apricots, cut to bite size
Directions
Cake
Preheat oven to 350 degrees F. Butter an 8 inch springform pan.
Place the butter in a large mixing bowl.
Measure the flour, baking powder and salt into a separate bowl. Stir to combine.
Beat the butter with the sugar until the mixture is light and fluffy.
Add the egg and beat until well incorporated.
Add the flour and milk, alternately and in batches, starting and ending with the flour just until combined.
Spread batter in the pan.
Streusel
Mix all the streusel topping ingredients together in a medium bowl until the it resembles coarse crumbs.
Scatter the chopped fruit on top of the cake, press in slightly.
Add the streusel topping, all over top, making sure that no cake batter remains visible.
Bake for 55 minutes.
Cool the cake in the pan for 30 minutes.
Loosen the cake by running a knife around the edge of the pan to remove.