Stuffed Baked Acorn Squash Recipe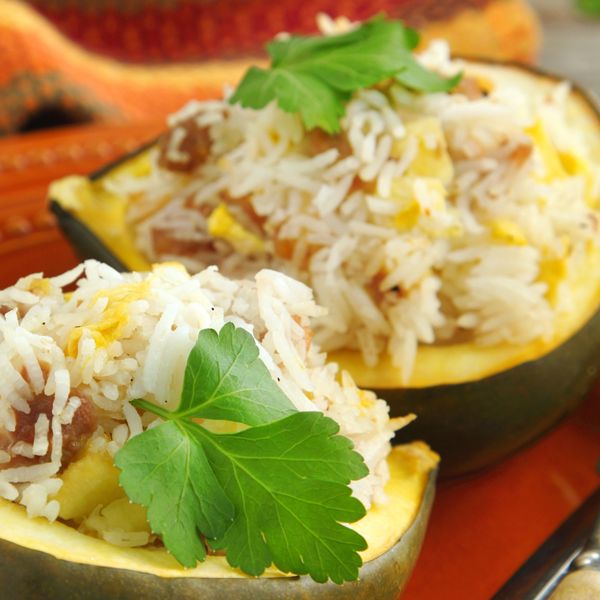 A recipe for a hearty, Stuffed Baked Acorn Squash bursting with flavor.
Ingredients
2 large acorn squash
3/4 cup uncooked long grain rice
1-1/2 cups water
2 tablespoons soy sauce
1 medium onion, chopped
1/4 cup butter, cubed
2 medium tartApples, peeled and chopped
1 cup (4 ounces) shredded mozzarella cheese
1/2 cup whole milk or half and half cream
1/4 cup balsamic vinegar
3 tablespoons honey
3 teaspoons minced fresh gingerroot
Directions
Cut squash in half; remove seeds. Place cut side down in a greased 13-in. x 9-in. baking dish. Cover and bake at 350° for 40-45 minutes or until tender.
Meanwhile, in a large saucepan, bring the rice, water and soy sauce to a boil. Reduce heat; cover and simmer for 15-18 minutes or until liquid is absorbed and rice is tender.
In a large skillet, saute onion in butter until almost tender. Add apples; saute for 3 minutes. Remove from the heat; stir in the rice, cheese, cream, vinegar, honey,and ginger.
Turn squash over; stuff with rice mixture. Bake, uncovered, for 20-25 minutes or until heated through.Yield:4 servings.