Stuffed Mushroom Caps Recipe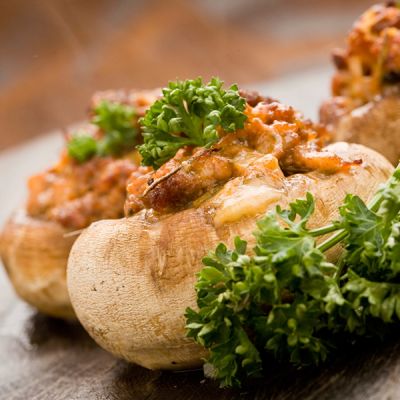 These stuffed mushroom caps are a yummy little appetizer!
Ingredients
24 medium mushroom caps
300 grams ground pork
1 onion, diced
2 cloves garlic, minced
8 ounces cream cheese
2 ounces Swiss cheese, shredded
2 Tablespoons parmesan cheese, shredded
1/4 cup fresh parsley
Directions
Preheat oven to 350F.
In large frying pan, fry ground pork until browned, about 6-8 minutes.
Add onions and garlic and cook until transluscent, 3-4 minutes.
Remove from heat and allow to cool.
Wash and dry mushrooms and remove stems.
Mince stems and add to the pork mixture, mixing all together in large bowl.
Add the cream cheese, swiss cheese and parsley and mix well.
Place 1 large teaspoon of the mixture into each mushroom cap.
Place the stuffed mushroom caps on a baking pan and sprinkle with parmesan.
Bake for 20 minutes.