Stuffed Mushrooms Recipe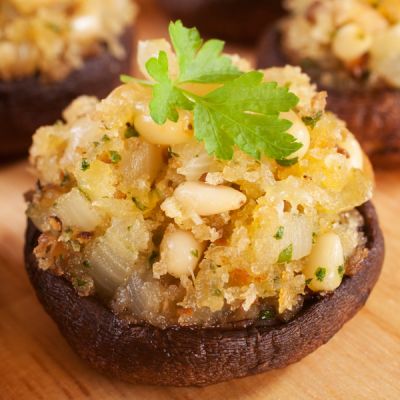 This baked stuff mushroom recipe smells wonderful when baking. Great as an appetizer or as the vegetable with your main meal.
Ingredients
1 pound medium sized mushrooms
3 slices bacon, chopped fine
1/2 cup chopped onion
1 clove garlic, finely chopped
1 cup shredded mozzarella cheese
1/2 cup pinenuts
1/2 cup soft breadcrumbs
1 teaspoon freshly chopped oregano
(or 1/2 teaspoon dried flakes)
1/4 teaspoon salt
Directions
Preheat oven to 375 degrees F.
Line a baking dish with parchment paper, and grease the parchment paper with olive oil.
Clean the mushroom and remove the stems.
Chop the stems into fine pieces.
Cut the bacon into small pieces and fry in a skillet.
Drain off all the grease. Remove the cooked bacon onto a plate with paper towels to absorb any fat. Once cool enough to handle, crumble into fine pieces.
Place the chopped onion, chopped mushroom stems and garlic in the frying pan and saute in small amount butter.
Cook until the onion is soft.
Stir the cooked bacon, shredded cheese, pinenuts, breadcrumbs,oregano and salt into the sauteed onions.
Stuff the mushroom caps with the mixture.
Place the stuffed mushrooms into the prepared pan.
Bake for 10 minutes or until the mushrooms are tender.