Sugar Donut Recipe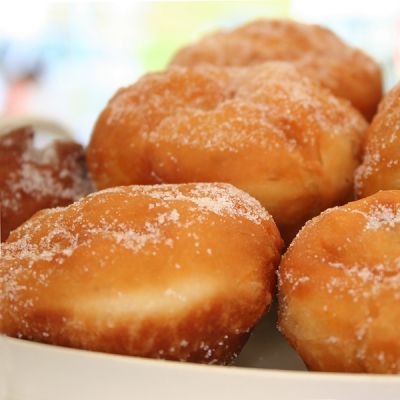 This sugar donut recipe will fill your kitchen with the most wonderful aromas when they are cooking.
Ingredients
2 Tablespoons sugar
2 Tablespoons butter, softened
1/2 cup warm milk, heated to 110ºF
1/4 teaspoons vanilla extract
1 teaspoons dry yeast
Pinch of salt
2 eggs
2 cups flour
2 cups oil for frying
Superfine granulated sugar, to dust
(Makes 12 donuts)
Directions
Whisk together the butter, sugar, warm milk, and vanilla in a medium bowl, until well combined.
Sprinkle the yeast over the warm milk mixture and gently whisk. Allow the mixture to sit for 5 minutes.
Gradually add the flour while whisking constantly.
Turn the dough out onto a floured work surface and knead for about 5 minutes, until the dough is soft and elastic. Sprinkle over more flour if needed.
To heat your oven to the perfect temperature for rising the dough, preheat your oven to 200ºF. Once heated, immediately turn it off.
Place the dough in a large, lightly greased heat proof bowl. Gently turn the ball of dough to lightly coat it in grease. Cover the bowl with a tea towel.
Place the bowl of dough in the warm oven.
Allow the dough to rise for about 1 1/2 hours, until doubled in size.
Once the dough has risen, punch it down.
Turn the dough out onto a lightly floured surface and roll out to about 1/2 inch thick.
Cut out 12 donuts using a circular cookie cutter.
Dust a cookie sheet with flour and place the donuts on the cookie sheet.
Return the donuts to the oven and allow them to rise for another 30 minutes.
Heat the oil to 350°F in a large heavy duty saucepan.
Working in batches of about 2 or 3 at a time, gently place donuts into the hot oil.
Fry the donuts for about 2 minutes, until the are golden brown on the bottom side.
Flip the donuts over and continue to fry the other side until golden brown, about 2 minutes more.
Once cooked, use a heatproof slotted spoon or tongs to carefully remove the doughnuts from the oil.
Place the donuts on a plate lined with paper towel to drain.
Dust the doughnuts with the superfine sugar while cooling.