Summer Beef Stew Recipe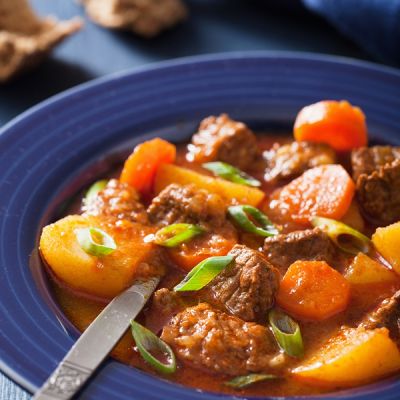 This summer beef stew recipe, is done in a crock pot so that you are not needing to turn on a hot oven to prepare this hearty delicious meal.
Ingredients
2 lbs stewing beef, cut into bite sized cubes
4 medium potatoes,washed, peeled and cut into large cubes
4 carrots, peeled and sliced rounds
2 stalks celery, thinly sliced
1 onion, chopped
1/4 teaspoon garlic salt
3 Tablespoons minute tapioca
1 Tablespoon granulated sugar
1 teaspoon salt
1/4 teaspoon pepper
1 quart tomato juice
Fresh green onions, sliced to garnish
(Serves 4)
Directions
This is so easy to do. Just get your crock pot out,
and put all the ingredients into it.
Turn onto low and let cook for 5 hours.
Garnish with fresh green onions.