Summer Potato Salad Recipe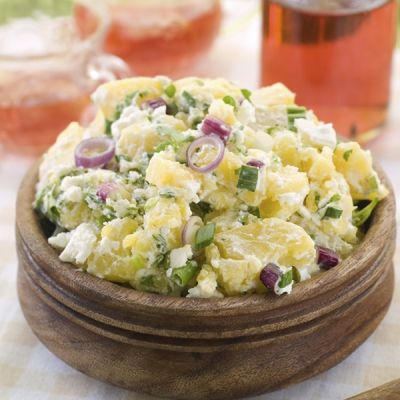 A delicious recipe for flavorful summer potato salad.
Ingredients
2 pounds small potatoes
1 tablespoon apple cider vinegar
1/2 cup sour cream
1/4 cup mayonnaise
1 Tablespoon mustard
1/2 cup red onion, finely chopped
1/2 cup celery, finely chopped
1/3 cup green relish
3 hard-boiled eggs, peeled and chopped
2 Tablespoon parsley, chopped fine
1/4 cup green onions, finely chopped
Salt and freshly ground black pepper, to taste
Directions
Add potatoes to large pot then cover with water. Bring water to a boil then reduce to a low simmer. Cook 15 to 20 minutes or until potatoes can easily be pierced with a fork.
Drain potatoes then add cold water to cool them. Once cooled, peel potatoes by gently pinching the skin and pulling it away.
Chop peeled potatoes into bite-size chunks then add to a large bowl. Scatter 1 tablespoon of vinegar over potatoes and lightly season with salt.
In a medium bowl, combine sour cream, mayonnaise and mustard.
Add dressing, red onion, celery, relish, eggs and parsley to potatoes.
Gently stir to combine.
Season with salt and pepper.
Sprinkle green onions over top.
cover and refrigerate until cold to serve.