Super Creamy Chocolate Frosting Recipe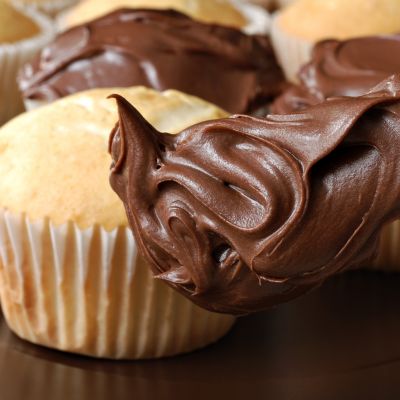 This super duper creamy chocolate frosting is delicious on cupcakes, brownies or really just from the spoon!
Ingredients
8 ounces chocolate (milk, semisweet or dark), melted and cooled
1 1/4 cups unsalted butter, at room temperature
1 cup confectioners' sugar
3/4 cup Dutch-processed cocoa powder
Pinch of salt
3/4 cup light corn syrup
1 teaspoon vanilla extract
Directions
In the top of a double boiler, melt the chocolate. Turn of the heat but leave the chocolate on the stove to stay soft.
Place the butter, sugar, cocoa and salt into a food processor and pulse for 30 seconds.
Add corn syrup and vanilla extract and pulse for 10 more seconds.
Scrape the sides of the bowl down if needed.
Add the melted chocolate and pulse until creamy.
The frosted cupcakes can be kept in an airtight container at room temperature for up to 3 days.