Super Easy Doughnut Holes Recipe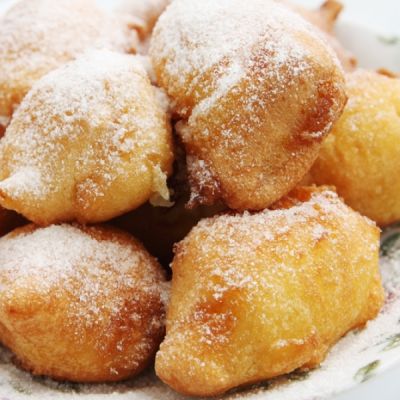 This recipe for doughnut holes is so quick and easy to make and will satisfy that craving for a homemade doughnut with very little time involved.
Ingredients
Makes 12-20 Doughnut holes, depending how big you make them.
1 1/4 cups all purpose flour
1/3 cup granulated sugar
2 teaspoons baking powder
1/2 teaspoon nutmeg
1/2 teaspoon salt
1 egg
1/2 cup milk
2 Tablespoons melted butter
vegetable oil for frying, about 2 inches deep in your pot
Topping suggestions:
1/2 cup confectioners' sugar
and/or
1/2 cup granulated sugar with 1 teaspoon cinnamon mixed in
Directions
Doughnut Holes
Combine flour, sugar, baking powder, nutmeg and salt in a mixing bowl.
Add the milk, egg, and melted butter, and mix with an electric mixer on low to medium speed until well combined.
Pour about 2 inches oil into a saucepan or skillet with high sides.
Heat the oil to 350˚F -375˚F.
Make sure it stays at that temperature each time you fry the doughnut holes.
Put the confectioners' sugar or other topping into a small bowl.
Have ready a plate lined with paper towels to place the cooked donuts onto for absorbing the oil.
Have ready a cooling rack with parchment paper underneath.
When the oil is up to temperature, spoon in 3-4 individual teaspoonfuls of dough at a time into the oil.
Have long tongs ready to flip the doughnut holes as you are frying on each side for about 1 to 2 minutes total.
Use the tongs remove the doughnut holes from the oil and place on paper towels to soak up excess oil.
Next, transfer the warm doughnut to the confectioners' sugar or cinnamon-sugar mixture and roll to lightly dust.
Place the holes onto a cooling rack to cool slightly before serving warm.
These are the very best when eaten warm and fresh.