Sweet And Sour Shrimp Recipe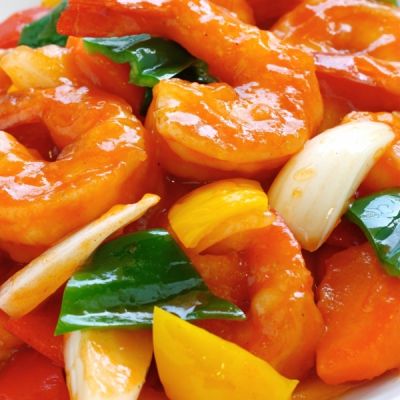 A Favorite recipe for yummy sweet and sour shrimp, Serve over hot cooked rice.
Ingredients
1 medium onion, coarsely chopped
1 medium green bell pepper, coarsely chopped
1 medium yellow pepper, coarsely chopped
2 tsp olive oil
3/4 cup ketchup
1/2 lemon, juiced
1 tablespoon cornstarch
3 tablespoons brown sugar
1/2 cup fresh squeezed orange juice
1/4 teaspoon ground ginger
30 large cooked shrimp, with tails andshells removed
Directions
In large nonstick skillet, heat oil to medium-high , cook onion and peppers until tender but not browned.
Add ketchup, and lemon juice.
Blend cornstarch and brown sugar with orange juice and ginger; add to sauce.
Cook, stirring until thickened. Add shrimp and heat through.