Sweet Chili Chicken Wings Recipe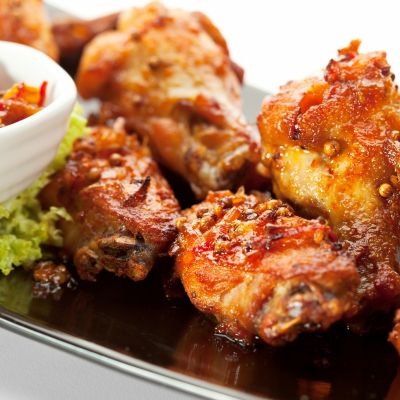 This sweet chili chicken wings recipe may well become a favorite in your house and they are a wonderful appetizer.
Ingredients
3 Tablespoons peanut oil
1/4 cup rice vinegar
1 Tablespoon soy sauce, divided
2 garlic cloves, minced
1/2 teaspoon minced fresh ginger
1 1/4 lbs chicken drumettes and wings, tips trimmed and cut at the joint
1/4 cup sweet Thai sweet chili sauce
1 Tablespoon hot sauce (optional)
(Makes 2-4 servings)
Directions
Whisk together the peanut oil, rice vinegar, 2 teaspoons of the soy sauce, garlic and ginger in a mixing bowl large enough to marinade the chicken in.
Place chicken wings in marinade and toss to coat.
Cover with plastic wrap and refrigerate for one full hour.
Preheat oven to 400 degrees.
Line a baking sheet with aluminum foil.
Place the marinated chicken wings onto the pan.
Cook 20 to 25 minutes or until chicken is cooked through and skin has darkened. Turn at least once, more if you feel necessary.
In a lark bowl, whisk together sweet Thai chili sauce, the hot sauce (if using) and the and remaining teaspoon of soy sauce.
Taste and add more hot sauce if desired.
Transfer the cooked hot wings to the bowl of sauce and toss to coat.