Sweet Potato Salad Recipe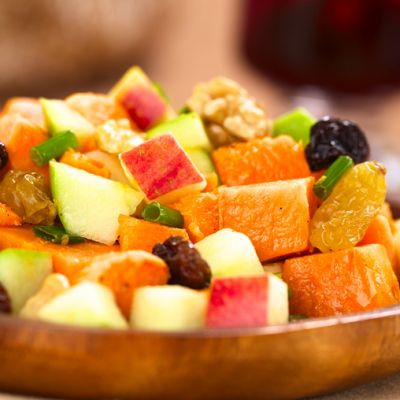 This sweet potato salad recipe is made with apples, raisins and delicious seasoning.
Ingredients
4 cups peeled and par-boiled sweet potatoes, cut into cubes
2 apples, peeled,cored and chopped
1/4 cup dark raisins
1/4 cup golden raisins
1/4 cup green onions,chopped
1/2 cup walnut pieces, toasted
1 orange, juice of
1 lime, juice of
2 Tablespoons white wine vinegar
1 Tablespoon Dijon mustard
2 cloves garlic, finely minced
salt & freshly ground black pepper, to taste
1/3 cup olive oil
Directions
Combine the sweet potatoes, apples, raisins, walnuts and green onions in a large bowl.
Whisk together the juices, vinegar, mustard, garlic, salt and pepper in a small bowl, then add the oil in a thin stream, whisking constantly.
Pour over the salad, toss well to combine, refrigerate overnight before serving.