Sweet Raspberry Trifle Cups Recipe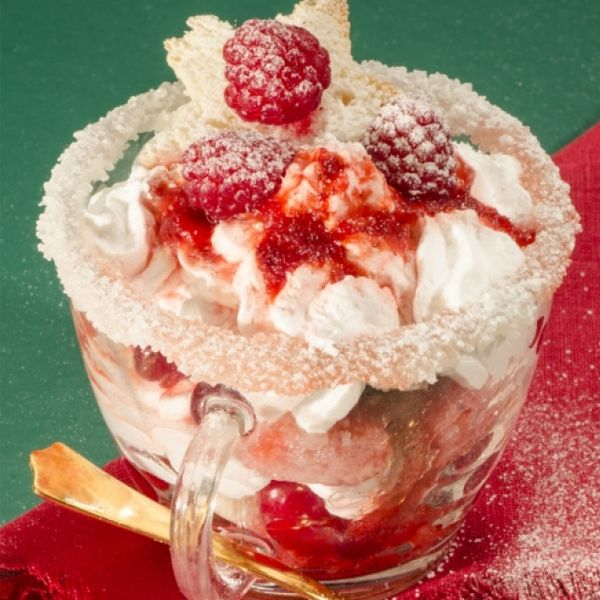 A delicious and light dessert that you can serve at your next big family meal. So fun in individual decorative mugs.
Ingredients
Cake
1 cup butter
2 cups granulated sugar
3 cups all purpose flour
4 eggs, separated
1 cup milk
2 ½ teaspoon . baking powder
½ teaspoon vanilla extract
⅛ teaspoon salt
Layers
1 cup heavy cream, whipped
2 cups raspberries (fresh or frozen)
2 Tablespoons water
1 cup granulated sugar (for the rims)
Directions
Cake
Preheat oven to 350˚F.
Grease an 8 x 12 inch cake pan.
Cream butter and sugar together. Add egg yolks and beat well. Sift together flour, baking powder and salt.
Mix wet and dry ingredients together. Add vanilla.
Separate egg whites into a glass or metal bowl.
* Save yolks for tomorrows omelet! Beat egg whites until they start to stiffen. Fold egg whites into cake mixture. Pourmixture into prepared pan. Bake for 35-40 minutes or until a toothpick inserted in the middle of the cake comes out clean. Let cake cool before the next steps.
Layers
If using raspberries that are frozen, let them defrost while cake is baking. In a medium saucepan, bring raspberries to a simmer. Add 2 tablespoons of water to thin out the mixture slightly. Set aside.
Whip heavy cream until soft peaks form.
To prepare your mugs, find 6-8 glass mugs (or whatever you have), and give them a rinse in water. Pour the sugar into a shallow plate. While mugs are still damp, press the rims into the sugar for garnish.
Break apart your cooled cake into small cubes.
Arrange trifle with a first layer of cake, followed by a spoonful of raspberry, whipping cream and repeat finishing withwhipping cream and raspberries.