Swirl Cheesecake Recipe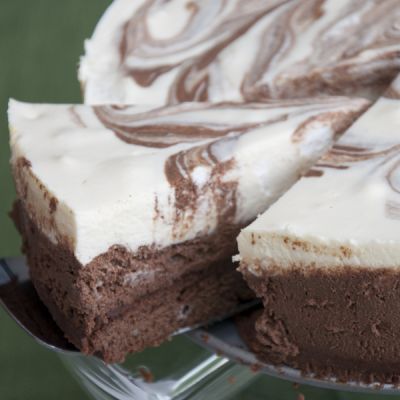 This swirl cheesecake recipe, is a dance of chocolate and vanilla that is not only very pretty, but also very yummy.
Ingredients
4 cups cream cheese, at room temperature
1 cup granulated sugar
1 teaspoon vanilla
1 cup sour cream
4 eggs
6 semi-sweet chocolate baking squares, melted
*Note : This is a crustless cheesecake, but you could always add a crust.
Directions
Preheat oven to 325 degrees.
Grease a 9 inch round spring form baking pan with butter or oil.
Beat cream cheese, sugar, and vanilla in large bowl on medium speed until well blended.
Add sour cream & mix well.
Add eggs, one at a time, beating on low after each addition just until blended.
Remove 2 cups of batter and set aside.
Stir melted chocolate into remaining batter in large bowl then pour into prepared pan.
Top with the remaining of plain batter.
Cut through batters with knife for swirling effect. Make sure to cut deep enough to pull some of the chocolate up to the top.
Bake 40 minutes or until center is almost set.
Cool then refrigerate for at least 4 hours.
Remove from pan; cut and serve.