Swiss Chocolate Buttercream Roll Recipe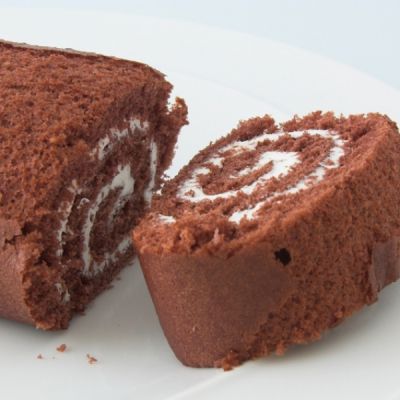 This Chocolate Buttercream Swiss Roll takes less than an hour to make. It is creamy and delicious and is great to serve when entertaining.
Ingredients
Cake
6 Tablespoons granulated sugar
3 large eggs
1/2 cup all purpose flour
1/4 cup unsweetened cocoa powder, plus extra for dusting
Buttercream Frosting
5 Tablespoons butter, at room temperature
1 cup confectioners sugar, sifted
1 teaspoon pure vanilla extract
Directions
Cake
Preheat the oven to 400 degrees F.
Prepare an 8x12 inch jellyroll pan. Grease with butter, line with parchment paper. Now grease the parchment paper with butter. Next dust the parchment paper with a little cocoa.
You will need a heat proof bowl that fits over the water pot size you use. Bring the water in the pot to a boil, then turn the heat off. Put the heat proof bowl on top of the pot with the hot water.
Add the sugar, then the eggs and beat with an electric mixer for 5-10 minutes, until the mixture is thick and creamy.
Sift in the cocoa powder and the flour and stir the mixture together with a wooden spoon.
Pour the mixture into the prepared baking pan and level the top.
Place the pan on the center rack in the preheated oven and bake for 10 minutes, until the cake is springy to the touch.
Remove from the oven, cover with a damp tea towel, and roll up the cake with the towel and parchment paper left on into a log. Leave to cool.
Buttercream Frosting
Put the butter in a mixing bowl and beat with an electric mixer until creamy. Add the vanilla and beat in.
Beat in the confectioners sugar a little at a time until combined and creamy smooth.
*If icing is too dry or too wet adjust with a small amount of confectionersí sugar or a teaspoonful of milk at a time until you have a nice spreading consistency.
Assembly
Once the cake has cooled, unroll the cake out onto a sheet of parchment paper dusted with cocoa powder.
Spread the mixture over the cake. Roll the cake into a long cylinder, starting from one of the short sides, removing the parchment paper as you roll it up. Place the roll onto a serving plate. Cut into pieces when you serve.
This delicious Chocolate Buttercream Swiss Roll tastes best when eaten fresh the same day you make it.
It does freeze well if there are any leftovers.