Tangy Lemon Berry Mousse Cake Recipe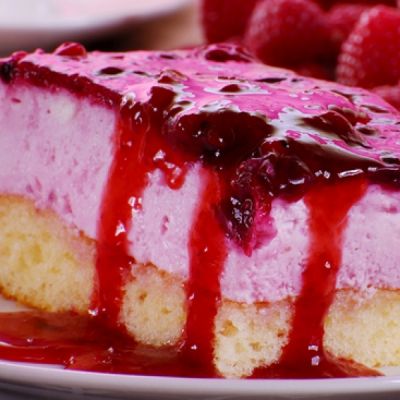 A soft spongy lemon cake recipe with a layered fresh berry mousse topping.
Ingredients
Tangy Lemon Cake Layer:
3/4 cup butter
1 cup sugar
3 eggs, beaten
1 1/2 cups self raising flour
grated rind of 1 orange
grated rind of 1 lemon
Berry Mousse Layer:
3 Tbsp fresh lemon juice
2 1/4 tsp powdered gelatin
2 cups fresh berries (pitted cherries, raspberries, or strawberries)
1/2 cup plus 2 Tbsp sugar
2 cups cold heavy cream
* optional: 1 drop pink food coloring
Berry Glaze:
2 cups fresh berries
1-2 tbsp water
1/4 cup sugar
Directions
Sponge Cake Layer:
Preheat oven to 350F, and grease a 9x12 baking pan.
Cream together butter and sugar until fluffy and then gradually beat in eggs one at a time.
Fold in flour, orange and lemon rinds.
Pour into greased pan and bake for 1 - 1.5 hours until it is set in the middle, and is golden brown.
Remove from oven and let cool in baking pan.
In the meanwhile, prepare the berry mousse:
Place lemon juice in a small bowl and sprinkle with gelatin. Let sit until gelatin softens.
In a blender, puree 2 cups fresh berries until smooth, scraping down bowl as needed. *Optional, add 1 drop of pink food coloring for added vibrance.
Pour through a fine-mesh sieve into a measuring cup, pressing on solids (you should have about 1 cup of puree); set aside solids for your glaze.
In a small saucepan, combine berry puree and 1/2 cup sugar over medium cook until bubbling.
Add gelatin mixture and cook, stirring constantly, just until gelatin dissolves, about 1 minute.
Transfer mixture to a small bowl and let cool to room temperature, 20 minutes.
In a large bowl, using an electric mixer, beat cream and 2 tablespoons sugar on medium-high until firm peaks form, about 4 minutes.
With a rubber spatula, gently fold in berry puree mixture until combined.
Pour over cooled cake.
Smooth top and refrigerate until set, about 2 hours (or up to overnight).
Before serving prepare berry sauce by heating berries in a medium saucepan until they begin to soften and liquefy. Add sugar water to desired consistency and bring to a boil.
Let come to a simmer. Take off stove and use a hand held blender to liquefy about 3/4 of the sauce.
Pour warm over individual slices of cake.