The Ultimate Chocolate Chip Cookies Recipe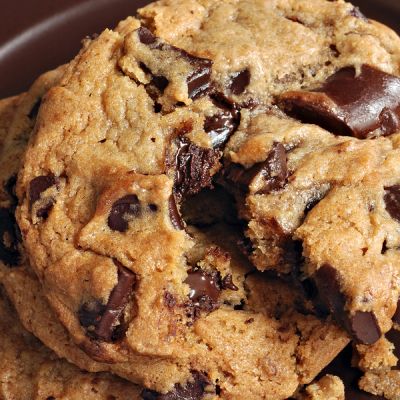 Oh My Goodness! Tempting plus quick and easy to whip up a batch of these ultimate chocolate chip cookies. Maybe this is next on your To Do list...
Ingredients
Makes about 12-18 cookies
1 cup all purpose flour
1/2 teaspoon baking soda
1/2 teaspoon salt
1/2 cup butter, at room temperature
1/4 cup + 2 Tablespoons granulated sugar
1 egg
1 teaspoon pure vanilla extract
1 cup chocolate chunks
Directions
Preheat oven to 350F.
Line a baking sheet with parchment paper or grease with butter. Stir together the flour, baking soda and salt.
In a mixing bowl, using an electric mixer, cream together the butter, granulated sugar and brown sugar. Beat in the eggs.
Add vanilla and beat until light and fluffy.
Stir in the dry ingredients. Fold in the chocolate chunks.
Drop batter using a teaspoon about 2 inches apart onto the prepared baking sheet.
Place into the preheated oven and bake for 10-12 minutes or until golden brown.
Remove from the oven, let cookies sit on the sheet for a few minutes then transfer to a cooling rack.