Thin Layer Chocolate Cake Recipe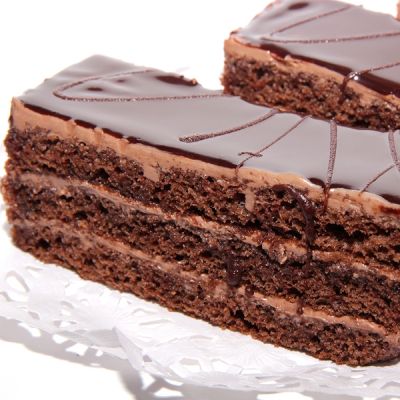 This thin layer chocolate cake is filled with a creamy chocolate mousse and topped with chocolate ganache.
Ingredients
Cake
1/2 cup milk chocolate melting wafers
1 1/2 cups hot brewed coffee
3 cups granulated sugar
2 1/2 cups all purpose flour
1 1/2 cups unsweetened cocoa powder
2 teaspoons baking soda
3/4 teaspoon baking powder
1 1/4 teaspoons salt
3 large eggs
3/4 cup grape seed oil
1 1/2 cups buttermilk
3/4 teaspoon vanilla
Mousse Filling
2 Tablespoons golden rum or water
1 1/2 teaspoons gelatin powder
1/2 cup confectioners' sugar
1/4 cup cocoa
2 cups heavy cream
1 teaspoons pure vanilla extract
Glaze
1/4 cup water
1 cup dark chocolate chips
1 Tablespoon butter, at room temperature
Directions
Cake
Preheat oven to 300 degrees F.
Grease and flour 3 - 9 inch square cake pans with butter.
In a bowl place chocolate melting wafers, pour hot coffee over top of them and stir until chocolate has melted and is smooth. Set aside.
Whisk together sugar, flour, cocoa powder, baking soda, baking powder and salt.
Beat eggs in a separate bowl until eggs have thickened slightly. While continuing to mix gradually add oil, buttermilk, vanilla and melted chocolate until well incorporated. Mix in flour mixture until just combined.
Pour batter into prepared pans and bake for 35 - 45 minutes, or until an inserted toothpick comes out clean. Set to cool, once cool enough to touch turn cakes out of pans and let cool completely on a wire rack.
Mousse Filling
In a glass measuring cup place rum, sprinkle gelatin over top and let sit for about 4 minutes, or until gelatin has softened. Heat up in a microwave doing 10 seconds at a time, stirring after each interval until gelatin has dissolved and has become smooth. Set aside.
Whisk together sugar and cocoa. Set aside.
Whip the cream till just before soft peaks form. Add sugar mixture and continuing whipping until it's incorporated. Take a third of whip cream and mix it into gelatin until its well combined, then place it back with the rest of whipped cream mixture and continuing whipping to stiff peaks.
Glaze
In a small pot melt together water, chocolate chips and butter until smooth. Let cool.
Assembly
Starting with a cake layer, alternate cake and chocolate mousse. Pour on the chocolate glaze and drizzle some to garnish.
Refrigerate for at least 2 hours before eatin.