Tiramisu In A Glass Recipe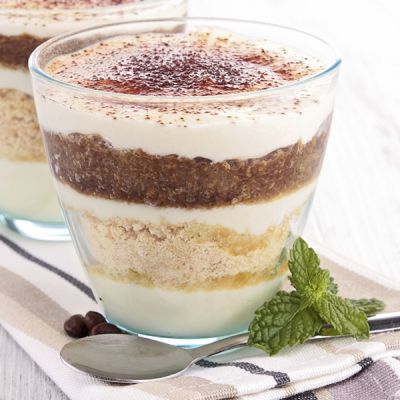 This tiramisu in a glass recipe is best made one day ahead so the flavors have time to bloom.
Ingredients
1/2 cup freshly brewed espresso, at room temperature
3 – 4 Tablespoons Kahlua
2 large eggs, separated, at room temperature
pinch of salt
7 tablespoons granulated sugar, divided
1 cup (250g) mascarpone
12 ladyfingers
30 grams grated bittersweet chocolate
unsweetened cocoa powder, for serving
(Makes 4-6)
Directions
Mix together the espresso and Kahlua.
In the bowl of an electric mixer, beat the egg whites with a pinch of salt until they begin to get stiff. Beat in half of the sugar until stiff.
Transfer the egg whites into a small bowl.
In the mixing bowl, beat the egg yolks with the remaining sugar until stiff and light-colored, about three minutes, scrape down the sides as necessary.
Beat in the mascarpone with a spatula or whisk, until lump-free.
Fold in half of the beaten egg whites, then the remaining half, just until fully incorporated.
Put a heaping spoon, of the mascarpone cream into the bottom of each glass.
Crush 4 of the ladyfingers into crumbs and do the next layer with the ladyfinger crumbs.
Do another layer of marscarpone.
Break the remaining 8 ladyfinger in half and then submerge it in the espresso mixture for 5-10 seconds, until completely soaked.
Divide the soaked ladyfingers evenly in the glasses.
Do the final layer of mascarpone dividing among the glasses.
Spoon the little bit of espresso, kahlua mushy liquid onto each the top in each glass.
Grate chocolate over each.
Place into the refrigerate at least four hours, overnight is better.
Right before serving, shake powdered cocoa generously on top.