Toffee Caramel Cheesecake Recipe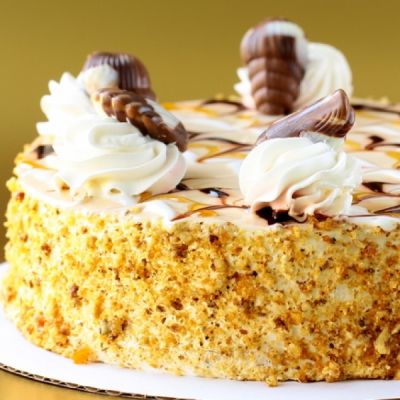 A Sweet and yummy recipe for caramel toffee cheesecake. garnished with whipped cream and chocolates.
Ingredients
3 pkg.Brick Cream Cheese, softened
3/4 cup packed brown sugar
1 Tbsp.vanilla
3 eggs
1/3 cup caramel ice cream topping
1 cup toffees, finely chopped
1/4 cup heavy cream, whipped
8 seashell chocolates
Directions
Preheat oven to 350º F.
This is a no crust cheesecake.
Beat cream cheese, sugar and vanilla in large bowl with mixer until well blended. Add eggs, 1 at a time, mixing on low speed after each just until blended.press onto bottom of 9-inch springform pan.
Bake 40 to 45 min. or until centre is almost set. Run knife around rim of pan to loosen cake; cool before removing rim. Refrigerate 4 hours. Press cut toffee into sides of cake and Spread caramel topping over cake just before serving. Garnish with whipped cream and chocolates for each slice.