Traditional Potato Salad Recipe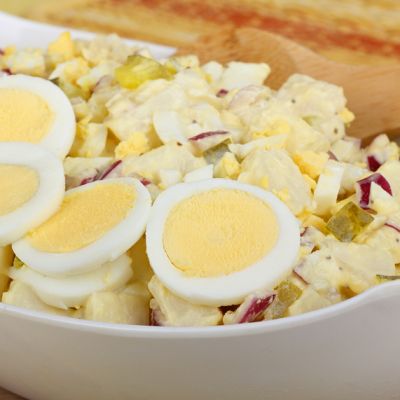 This potato salad recipe makes a great summer meal. You can make the whole salad up, and don't add the mayonnaise and mustard until just before you are ready to serve it for the absolute best flavor!
Ingredients
3 medium potatoes, peeled and cut into 1-inch cubes
1 Tablespoon apple cider vinegar
1 teaspoon sugar
1/2 cup celery, chopped
1/3 cup red onion, chopped
1/4 cup dill pickles, chopped
4 eggs, hard boiled and chopped, save 1 for garnish
3/4 cup mayonnaise
1 teaspoon prepared mustard
1/2 teaspoon celery salt
1/2 teaspoon salt
(Serves 4)
Directions
Place cut potatoes in a medium saucepan and cover with water.
Set sauce pan over medium-high heat and bring to a boil. Cook potatoes until tender, about 8-12 minutes.
Once cooked, drain.
Place cooked potatoes in a medium bowl and sprinkle with apple cider vinegar and sugar.
Add celery, red onion, and pickles. Gently mix until combined.
Gently fold in 3 of the chopped eggs, reserving one as a garnish.
In a separate small bowl, combine the mayonnaise, mustard, celery salt and salt. Taste and adjust seasoning, if necessary.
Pour dressing over the potato mixture and mix gently until well coated and combined.
Top the potato salad with remaining hard boiled egg, sliced into thin rounds, as a garnish.
Cover and transfer to the refrigerate for 1 hour before serving.
Potato salad can be made the night before and stored in the refrigerator.