Traditional Roasted Turkey Recipe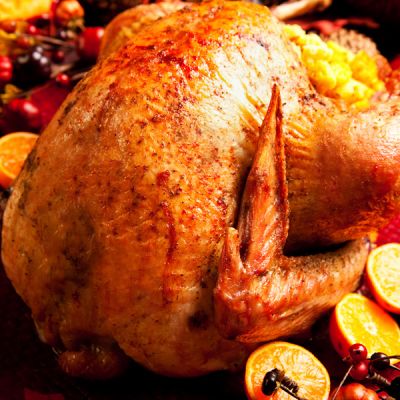 A complete guide to roasting your turkey this holiday season.
Ingredients
1 Frozen Turkey
Stuffing
1/4 cup finely chopped onions
1/2 cup chopped celery
1/3 cup butter
4 cups bread cubes
1/4 teaspoon pepper
2 eggs, beaten
1/2 teaspoon salt
1/4 to 1/2 teaspoon ground sage
1/4 to 1/2 teaspoon poultry seasoning
Makes enough for an 8-10lb. turkey
Directions
Number Of Servings : Weight : (Stuffed Cooking Time/ Unstuffed Cooking Time)
4 to 6: 10 -12 lb (4.5-5kg): (3 1/2 - 3 3/4 hours/ 3 - 3 1/4 hours)
8 to 10: 12 -16 lb. (5.5-7kg): (3 3/4 - 4 hours/ 3 1/4 - 3 1/2 hours)
12 to 16: 16 - 22 lb. (7-10kg): (4 - 4 1/2 hours/ 3 1/2 - 4 hours)
DEFROSTING THE TURKEY—2 METHODS
Method One
Leave turkey in packaging in the refrigerator.
Never thaw it at room temperature.
To thaw, place your frozen packaged turkey on large tray in
refrigerator.
Allow 24 hours for 5lbs (2.5kg) of turkey.
Method Two
Place packaged turkey in large container or sink; cover with cold water.
Allow 1 hour per pound (500g) thawing time.
It is important to change the water at least every hour so the water remains fresh.
ONCE DEFROSTED
Rinse the turkey with cold water then pat dry inside and out with paper towels.
For an unstuffed bird sprinkle cavities with ½ teaspoon each salt and pepper and generous sprinkle of fresh or dried herbs, such as savory, thyme or sage.
For stuffed turkey, stuff both cavities loosely just before roasting
Never stuff turkey ahead of time.
More Tips
To Roast the Turkey – Tent the turkey with foil.
Roast in 325ËšF oven, removing the foil for the last hour or until the thermometer reads 185ËšF.
You must put the turkey into the thickest part of the turkey for a true reading of
temperature.
If you are using a convection oven, reduce the time by 25%. When roasting your turkey in a convention oven, you should bake the stuffing in a separate dish while the turkey is standing. This is because, cooking a stuffed bird in a convention oven may not have enough time to reach a safe temperature.
STUFFING THE TURKEY
Sauté onion and celery in the butter until softened.
Combine onion mixture with bread, pepper, eggs, salt, sage and poultry seasoning in a large mixing bowl.
Into your rinsed and dried turkey, pack the stuffing into the neck cavity.
*Note: If you use the poultry bags available and stuff the stuffing into the bags inside the turkey, it is very easy to remove the stuffing when cooked.
Once the neck is stuffed, skewer the skin over stuffing to back. Twist the wings under the back.
Now stuff the body cavity.
Tuck the legs under the band of skin or tie them
together with kitchen string.
Place, breast side up, on a rack in roasting pan.
Combine melted butter, herbs, salt and pepper and brush over turkey
Cover loosely with foil and leave the ends open.
COOKING THE TURKEY
Add 1 inch of water to roasting pan.
Roast the turkey at 325ËšF.
Baste every 30 minutes for the cooking time.
For the final hour of roasting, remove the foil and roast until the thermometer inserted in the thickest part of the breast or thigh reaches 180ËšF and the stuffing is 165ËšF.
Check roasting chart (above) to determine roasting time.
Transfer to a large platter, tent with foil and allow it to stand for 30 minutes before carving.
Use drippings in roasting pan to prepare gravy on page 7.
Spoon the stuffing out of the turkey and place into an oven proof bowl. Cover with a lid or tinfoil and set into the turned off, but warm oven. You can keep the stuffing warm by putting it into the oven until you are ready to set out onto the table.
TIMING TIPS:
At this point in the preparations, all your vegetables should be prepared and on the stovetop cooking. Timing is the most critical part of this meal. All the food items are actually easy to prepare, but in order for everything to be ready at the same time and served piping hot, you need to plan your cooking time.