Triple Chocolate Layer Cake Recipe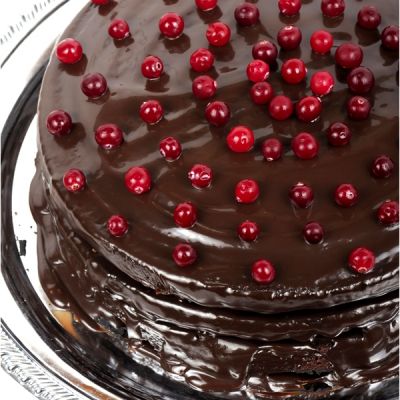 This triple chocolate layer cake recipe is layered with a delicious chocolate berry frosting.
Ingredients
2 cups all-purpose flour
1 cup unsweetened cocoa
3/4 cup brown sugar, lightly packed
3/4 cup granulated sugar
1 1/2 teaspoons baking soda
1/4 teaspoon salt
1 cup butter, softened
1 1/4 cups milk
4 teaspoons lemon juice
4 eggs
1 teaspoon vanilla
Frosting
1 1/4 cups butter, softened
2 eggs (make sure they are farm fresh)
1 teaspoon vanilla
4 cups icing sugar
1 cup unsweetened cocoa
2 cups mixed berries (fresh or defrosted)
1/2 cup sugar
Garnish
Fresh wild berries (saskatoon berries is what we used, but use whatever you have available). You could also garnish with nuts or sprinkles.
Directions
Preheat oven to 350F.
Grease and line three 9 inch cake pans with parchment paper.
In a large bowl, combine the flour, cocoa, brown sugar, granulated sugar, baking soda and salt.
Add the butter and mix until a crumbly texture forms.
In a small bowl, stir the milk with the lemon juice.
Add half the milk mixture, and blend well.
Beat in the remaining milk mixture, eggs, and vanilla until batter is smooth, scraping the sides of the bowl as needed.
Pour the batter evenly into the prepared cake pans.
Bake for 25 minutes or until a toothpick inserted into the center comes out clean.
Cook in pan for 10 minutes, and then flip pan onto wire rack and let cakes cool entirely before frosting.
Frosting
In a large bowl beat the butter until creamy.
Add eggs, vanilla, icing sugar and cocoa and mix until creamy.
To frost, place the first layer of cake onto a serving platter and alternate cake layers with frosting and berries in the layers.
Frost the top of the cake, and garnish with berries if you please.
Since the frosting as raw eggs, refrigerate any that is not finished.