Turkey Meatloaf Recipe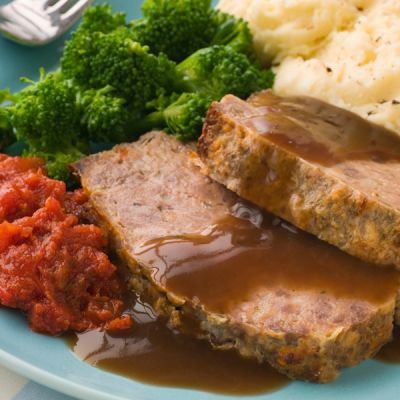 This warm flavorful turkey meatloaf recipe is healthy and great served with vegetables and gravy.
Ingredients
2 Tablespoons butter
1 cup onion, chopped
3 cloves garlic, minced
1 1/4 lbs ground turkey
1/2 cup breadcrumbs
1 egg
3/4 cup ketchup
2 teaspoons Worcestershire sauce
3/4 teaspoon salt
1/2 teaspoon black pepper
Directions
Preheat oven to 350 degrees F.
Melt butter in a skillet.
Cook onion and garlic in melted butter for 5 minutes, stirring occasionally.
Place mixture in a large bowl to cool for 5 minutes.
Combine turkey, bread crumbs, egg, 1/4 cup of the ketchup, Worcestershire sauce, salt, and pepper with onion mixture.
Press meatloaf into a loaf pan.
Spread remaining ketchup on top.
Bake for 50-55 minutes.
Remove from oven and let stand 5 minutes before serving.