Vanilla Bean Cheesecake Recipe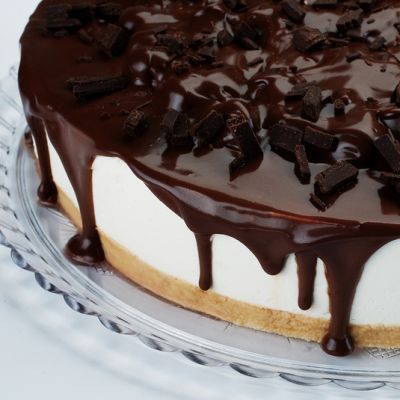 This recipes is a classic using fresh vanilla beans. You can serve it plain or like we do, add a delicious chocolate drizzle topping.
Ingredients
Crust
1 1/2 cups graham cracker crumbs
1/4 cups sugar
4 Tablespoons butter, melted, plus more for greasing
Filling
2 cups sour cream
1 1/4 cup sugar, divided
1 Tablespoon pure vanilla extract
2 pounds cream cheese, softened
1 vanilla bean, split lengthwise, seeds scraped
4 large eggs, at room temperature
1/2 teaspoon almond extract
1/2 cup heavy cream
Chocolate Sauce
2 cups chocolate chunks
1/2 - 1 cup whipping cream
(Makes 1 10-inch cheesecake)
Directions
Crust
Preheat oven to 350°F
Lightly grease the bottom of a 10-inch springform pan with butter. Set aside.
In the bowl of a food processor, combine the graham cracker crumbs and 1/4 cup of the sugar. Pulse until finely ground
Add the melted butter.
Pulse the mixture until it is forms crumbles.
Pour the crumb mixture into the bottom of the spring form pan and press.
Transfer pan to the preheated oven and bake until lightly browned around the edges, about 12 minutes.
Once cooked, remove from oven and set aside to cool.
Filling
Combine the sour cream with 1/4 cup of the sugar and 1 teaspoon of the vanilla extract. Mix until well combined. Cover and set aside.
Decrease the oven temperature to 300°F.
Add cream cheese to the bowl of a stand mixer fitted with the paddle attachment.
Add remaining 1 cup sugar.
Scrape in the vanilla bean seeds.
Beat on low until just combined.
Beat in eggs, one at a time.
Add the almond extract and cream. Mix on low until smooth.
Pour the batter into the pan with the graham crust and smooth top with an offset spatula, if necessary.
Transfer to the preheated oven and bake for 65 minutes or until lightly golden just set.
Once baked, remove from the oven and immediately pour over the sour cream topping.
Smooth the surface with an offset spatial.
Return the cheese cake to oven and continue to bake for an additional 5 minutes.
Remove from oven and set on wire rack to cool completely.
Once cooled, transfer to the refrigerate and allow to chill for 3 hours.
Before pouring over the chocolate sauce, run a thin knife around the edge of the cake. Then remove the spring form pan ring.
To make the chocolate sauce,
Place chocolate in a heat proof bowl set over a pot of barely simmering water.
While chocolate is melting, add cream. Stir until melted and smooth.
Just before serving, pour the chocolate sauce over the cheese cake.