Vanilla Chocolate Marble Cheesecake Recipe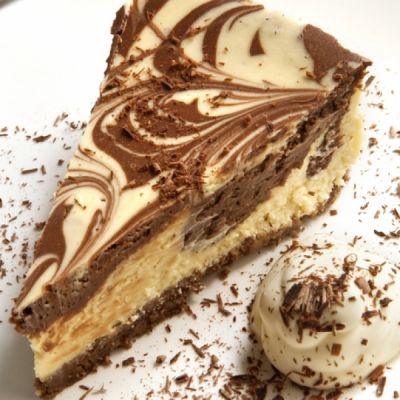 A Very tasty recipe for vanilla and chocolate marble cheesecake.
Ingredients
Crust
1 1/4 cups graham cracker crumbs
2 Tablespoons granulated sugar
1/4 cup melted butter
Filling
1 1/4 cups granulated sugar
2 Tablespoons all purpose flour
4 (8 oz each) packages of cream cheese, at room temperature
3/4 cup sour cream
4 eggs
2 egg yolks
1 teaspoons vanilla extract
1/4 cup semisweet chocolate, chopped
Directions
Preheat oven to 350 degrees F. have ready 8-inch spring form pan.
To make the crust. In a bowl, combine all the ingredients for the crust. Press lightly into the bottom on the spring form pan and bake for 10 minutes.
Turn the oven temperature down to 325 degrees F.
For the filling. Place the sugar and flour in a food processor and pulse until combined. Add the rest of the ingredients for the filling and pulse just until the mixture is smooth. Pour onto the crust, reserving 3/4 cup of the filling.
Melt the chopped chocolate in a double boiler and pour into the reserved filling. Mix well and with a teaspoon, dollop the chocolate mixture in a few dots on top of the filling in the spring form pan. Swirl the chocolate mixture into the filling with a knife.
Bake for about 1 hour and 30 minutes.
let cool then cover and chill in the refrigerator for 6 to 8 hours, or until completely chilled. To remove the cheesecake from the pan, run a thin knife all around, between the spring form pan and the cheesecake.