Vanilla Cupcakes With Pink Frosting Recipe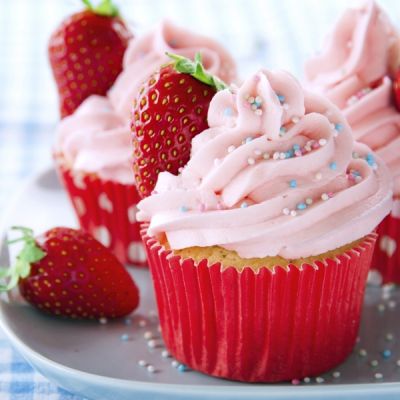 A Sweet recipe for yummy vanilla cupcakes with pink frosting and a strawberry topping.
Ingredients
Cupcakes
1 1/4 cups all purpose flour
1 1/4 teaspoon baking powder
1/2 teaspoon baking soda
1/2 teaspoon salt
2 large eggs
3/4 cup granulated sugar
1 1/2 teaspoon vanilla extract
1/2 cup vegetable oil
1/2 cup buttermilk
Frosting
3 cups confectioners sugar
1 cup butter
1 teaspoon vanilla extract
2 tablespoons heavy cream
5 drops pink food coloring
Topping
12 strawberries
sprinkles
Directions
Cupcakes
Preheat the oven to 350 degrees F.
Line a cupcake pan with cupcake liners.
In a medium bowl, whisk together flour, baking powder, baking soda and salt.
In the bowl of an electric mixer, beat eggs on medium speed 30 seconds.
Add sugar, vanilla and oil and beat on medium speed 1 minute.
Reduce mixer speed to low and slowly add the flour mixture and the buttermilk.
Beat until just combined, Pour batter into a lined muffin pan.
Bake for 14 minutes or until a tester inserted in the center comes out clean.
Let them cool in the pan for a couple minutes, then remove to a wire rack to cool completely.
Frosting
To make the frosting, mix together sugar and butter on low speed until well blended and then increase speed to medium and beat for another 3 minutes.
Add vanilla, cream and food color. Continue to beat on medium speed for 1 minute, adding more cream if needed for consistency.
Pipe frosting onto cupcakes, and top each with a strawberry and sprinkles to serve.