Vanilla Layer Cake Recipe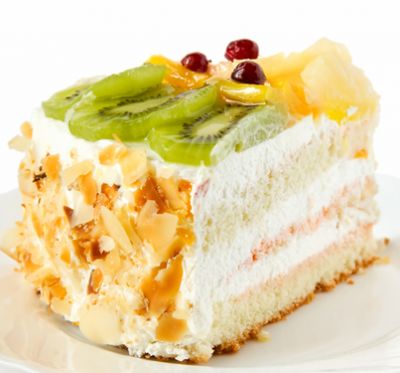 Delicious vanilla layer cake recipe topped with fresh fruit.
Ingredients
3 cups sifted cake flour
1 tablespoon baking powder
1/2 teaspoon salt
1 cup unsalted butter, softened
2 cups granulated sugar
4 large eggs
1 cup whole milk
1 1/2 teaspoons pure vanilla extract
Fresh fruit and nut topping: 1/3 cup slivered almonds, 2 kiwis, 1 can pineapple chunks, 1 orange, sliced
2 cups whipped cream
Directions
Preheat the oven to 375 degreesF.
Butter and flour the sides of two 9-inch round cake pans.
Line each pan bottom with a piece of parchment paper cut to fit pan.
Into a medium bowl, sift flour, baking powder and salt together 3 times, and set aside.
Using a mixer with the whisk attachment on medium speed, beat the butter until its light and fluffy (about 3 to 5 minutes).
Add sugar and beat until blended.
Add the eggs one at a time, mixing well after each egg.
Beat in the vanilla extract.
On low speed, add the flour mixture to the butter mixture in thirds, alternating with the milk (starting and ending with the flour), scraping the bowl as needed.
Beat just until blended.
Pour the batter into the prepared pans, bake for 25 to 30 minutes (or until firm to the touch and golden).
Remove from the oven, place pans on cooling racks and let cakes cool in the pans.
Remove cooled layers from pans, remove parchment from bottoms and frost with whipped cream.
Decorate with slices of fresh fruit and slivered almonds.