Veggie Lasagna Recipe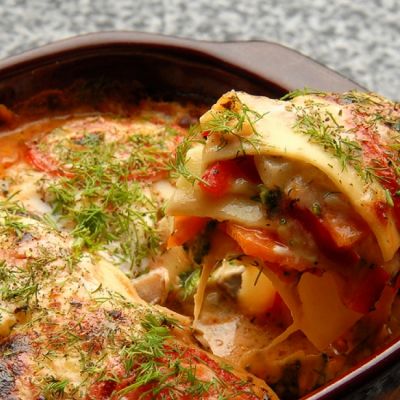 This veggie lasagna recipe is filled with layers of wonderful tasty vegetables. It is a great alternative to making a meat lasagna, and even the meat eaters will very like be satisfied with this hearty dish.
Ingredients
1 teaspoon salt
3 Tablespoon olive oil, divided
2 garlic cloves, minced
1 medium onion, diced
2 medium carrots, sliced thin
1/2 cup sliced celery
1 medium zucchini, cut into 1/4 inch thick slices
1 summer squash, cut into 1/4 inch slices
1/2 cup sweet red pepper, julienned
1/2 cup green pepper, julienned
1/2 teaspoon oregano
1 teaspoon butter
1 teaspoon salt
2 Tablespoons olive oil
1- 28 ounce jar spaghetti sauce
9-1294 cups shredded mozzarella cheese
small handful of fresh dill, chopped
(Serves 6)
Directions
Set a large pot of water to boil over high heat. Add 1 teaspoon of salt and 1 tablespoon olive oil.
Once boiled, add lasagna noodles and cook according to package directions.
When cooked, plunge the noodles in cold water and set aside.
In a skillet set over medium high heat, heat 2 tablespoons olive oil.
Add garlic and onion and cook until fragrant, about 2 minutes.
Add the carrots and celery. Cook for 5 minutes, until beginning to get tender.
Add the zucchini, summer squash, both red and green peppers and oregano.
Saute for 5 minutes until vegetables are beginning to get tender. Be careful not to cover cook the vegetables at this point.
Preheat oven to 350°F.
Grease a 9x13 inch baking dish with butter.
Spread 1/2 cup spaghetti sauce evenly over the bottom of the baking dish.
Arrange a layer of noodles over the sauce, overlapping slightly.
Place a layer of the cooked vegetables over the noodles. Cover with 2/3 cup of the spaghetti sauce.
Continue layering the remaining noodles, vegetables and sauce.
Once finished layering, top with mozzarella cheese.
Cover with aluminium foil and bake for 1 hour.
Once cooked, remove from oven and sprinkle with dill.
Let lasagna stand 15 minutes before serving.