Victorian Gingerbread Cookies Recipe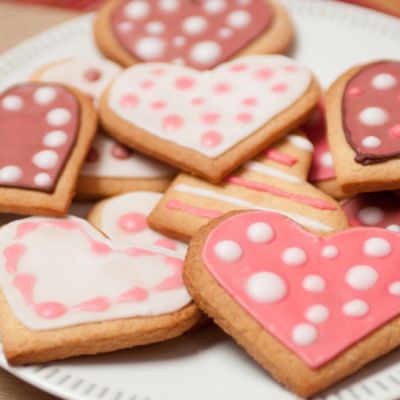 A classic gingerbread cookie recipe cut into sweet little hearts.
Ingredients
2 1/2 cups unsifted flour
2 teaspoons cinnamon
1 1/2 teaspoons ginger
1/2 teaspoon ground cloves
1/4 teaspoon salt
1/2 cup margarine
1/2 cup packed dark brown sugar
1/3 cup dark corn syrup
1 large egg
Directions
In large bowl, sift together flour, cinnamon, ginger, cloves and salt.
Blend together margarine and brown sugar until smooth.
Add corn syrup and egg; beat well.
Add dry ingredients, about one-third at a time, mixing until smooth after each addition.
Chill dough one hour.
Preheat oven to 350 degrees F.
Roll out half of dough on lightly floured surface to one-quarter-inch thickness.
Using heart-shaped cookie cutter, press out cookie shapes or use knife to cut around a pattern.
Place hearts on cookie sheet.
Decorate as desired.
Bake for 15 to 20 minutes until golden.
Remove and place on wire racks to cool.
Store in covered container.
Makes about eight (4 1/2-inch) cookies.