Watermelon Kiwi Popsicles Recipe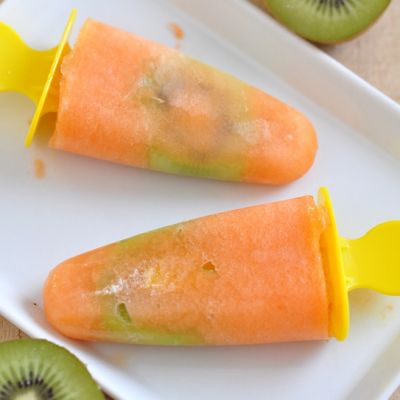 Make this watermelon kiwi popsicle recipe for a refreshing treat.
Ingredients
3 cups seedless watermelon, cut into small chunks
1 cup peach nectar
1-2 kiwis, peeled and sliced
1 Tablespoon honey (more or less to taste)
Directions
Make these popsicles so easily just by putting the cut watermelon into a food processor or blender, along with the peach necter and just turning it on long enough to make a pulp. Do a taste test. If you think you want it sweeter, add a tablespoon of honey (more or less to taste) and blend it in.
Peel and slice the kiwis into rounds.
This will make about 12 popsicles, depending on the size of the molds.
Spoon a little watermelon slush into the bottom of each mold. Slide in a slice of kiwi. Fill the mold the rest of the way with the watermelon slush.
Put the stick onto each mold and place into the freezer.
Freeze for at least 6 hours or overnight.