White Chocolate Almond Yule Log Recipe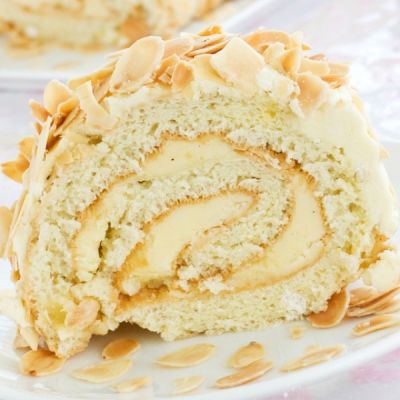 A delicous light and fluffy almond sponge cake rolled around a delightful creamy white chocolate filling.
Ingredients
Almond Sponge Cake
4 egg yolks (keep the whites – you'll use them in a minute)
1/2 cup granulated sugar
1/4 tsp almond extract
1/4 tsp vanilla
1/2 cup all purpose flour
4 egg whites
1/4 tsp salt
1/4 cup granulated sugar
Filling/Frosting
2 tbsp water
1 tsp unflavoured gelatin
1/4 cup high quality white chocolate, grated
1/4 cup whipping cream
2 cups whipping cream
1/4 cup granulated sugar
Directions
Preheat the oven to 350˚F and prepare a 10″ x 15″ jellyroll pan by spraying it with cooking spray, lining the bottom with parchment paper, and spraying the paper with more cooking spray. Set aside.
In a large bowl, combine egg yolks and 1/2 cup sugar.
Whisk until pale and thickened. Whisk in almond extract and vanilla.
Add 1/2 cup flour, and whisk until it is just combined. Set aside.
In a new bowl, whisk egg whites with 1/4 teaspoon of salt.
Beat until soft peaks form.
Slowly add in 1/4 cup sugar.
Continue beating until stiff, glossy peaks form.
Whisk 1/3 of the egg whites into the egg yolk mixture to lighten it, then with a rubber spatula, carefully fold the rest of the egg whites into the batter – you want to combine it without completely deflating it.
Pour the batter onto the prepared pan and spread it out evenly.
Bake for 15-17 minutes, until lightly golden brown and the center of the cakes springs with pressed.
Remove from oven and run a knife around the edge of the cake to loosen it from the pan.
Dust the cake with icing sugar, and gently flip it onto a sheet of parchment.
Peel off the lining paper that is now on the top of the cake, and starting from the short end, roll the cake with the clean parchment paper into a cylinder.
Let it cool completely, seam side down.
Meanwhile, prepare the filling and frosting.
In a small saucepan, combine water and gelatin. Set aside for 5 minutes.
Over a double boiler, or using your favorite melting method, melt 1/4 cup of grated high quality white chocolate. Let cool slightly when melted. Then mix in 1/4 cup whipping cream.
Set aside.
Over low heat, warm up the gelatin mixture until it dissolves, then set aside to cool.
In a new bowl, whisk together 2 cups whipping cream, and 1/4 cup sugar until soft peaks form.
Beat in gelating mixture.
Fold in 2/3 of the gelatin/whipped cream into the white chocolate mixture to make the filling.
Unroll the cooled sponge cake and spread it with the filling, leaving a 1/2 inch border at the edges.
Roll it up again from the short end, this time without the parchment paper.
Transfer the cake roll carefully to a serving platter, then carefully slide it off the parchment onto the platter.
Spread the outside of the cake with the plain whipped cream.
Cover it lightly with plastic wrap and refrigerate for at least 2 hours or overnight.
Just before serving, sprinkle with 1 cup toasted sliced almonds.