White Chocolate Cheesecake Recipe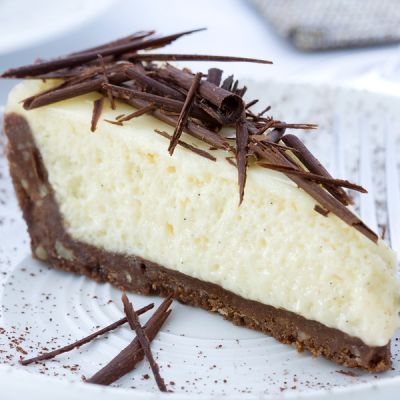 This delicious white chocolate cheesecake is all about chocolate. Chocolate in the nutty crust, chocolate in the cheesecake and beautiful chocolate garnish on top!
Ingredients
Chocolate Nut Crust
1 1/4 cups chocolate wafer crumbs
1 cup chopped walnuts
1/2 cup butter, melted
White Chocolate Cheesecake
4 cups cream cheese, at room temperature
1/2 cup granulated sugar, divided
1 teaspoon vanilla
1 1/2 cups white chocolate melting wafers, melted
4 eggs
Garnish
Chocolate shavings
Serves 6 - 8
Directions
Preheat oven to 325 degrees F.
Chocolate Nut Crust
Mix together chocolate wafer crumbs, chopped walnuts and melted butter until they are well incorporated. Press into a 9 inch pie pan, making sure to go up the sides.
Bake for 8 minutes, then let cool.
White Chocolate Cheesecake
Beat together cream cheese, sugar and vanilla until light and fluffy. Mix in chocolate until well incorporated. Add eggs one at a time, beating after each addition.
Pour batter into prepared crust and bake for 55 - 65 minutes, or until cheesecake has set. Let cool completely, then chill in fridge overnight.
Garnish with chocolate shavings and serve.