White Chocolate Mocha Pie Recipe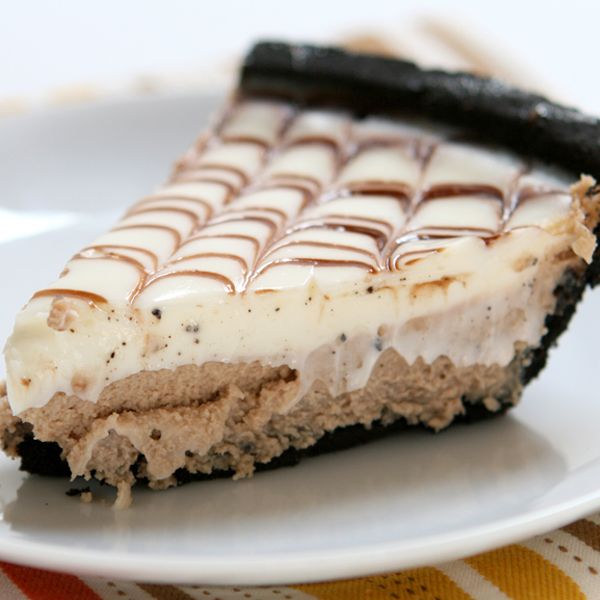 So many delicious flavors in this white chocolate mocha pie recipe
Ingredients
1 Chocolate Graham Cracker Pie Crust
1 1/2 cups (1 1/2 sleeves) of chocolate graham crackers
6 tablespoons butter, melted
2 tablespoons sugar
(or purchase a pre-made crust)
Chocolate Mocha Filling
4 Ounces of Cream Cheese, softened
3/4 cup Heavy Cream
1/4 cup Sugar
3/4 Tbsp Instant Espresso Powder
1 Bag Semi-Sweet Chocolate Chips
White Chocolate Mousse Topping
1 cup heavy cream
4 oz cream cheese, mixed until smooth
3 Tbsp Sugar
4 oz White Chocolate, chopped
1 tsp vanilla
Chocolate Drizzle:
1/2 cup of dark chocolate chips
Directions
Chocolate Graham Crust
Stir all ingredients together in a bowl.
Pour into pie plate and use your hands to press to form crust.
Bake 350 degrees for 8-10 minutes.
Cool before filling.
Chocolate Mocha Filling
In a medium sauce pan over medium heat, melt cream cheese.
Whisk in the heavy cream and sugar.
Add in the instant espresso powder and mix until combined.
Bring mixture to just under a boil(bubbles will be forming around the edges)
Place the chocolate chips in a medium bowl.
Pour the hot cream mixture over the chocolate chips and let sit 5 minutes without stirring.
After 5 minutes, whisk the chocolate until smooth.
Pour into your pie crust and place in the refrigerator for a few hours or overnight until set.
White Chocolate Mousse Topping
Use a small double boiler or in a small saucepan, bring about 1 inch of water to a boil. Make a double boiler by placing a bowl on top on the saucepan with the boiling water so it fits snuggle over the top without touching the water.
Put the white chocolate in the bowl, and stir until completely melted. set aside.
In a medium bowl, combine the cream, sugar with an electric mixer and vanilla until it starts to thicken.
Add the softened cream cheese in 3 parts, mixing well in-between each addition.
Whip to a whip creamed consistency.
Fold in the melted chocolate.
Spoon onto the chilled pie.
Using a knife, lightly cut diagional lines on the top of the pie and pipe the chocolate glaze lines to garnish with the chocolate drizzle. and place in the refrigerator for 1 hour.
Chocolate Drizzle:
Put the chocolate chips in the top of a double boiler over medium heat and melt, or melt in the microwave at 30 second intervals, stirring in between.
Scrape melted chocolate into a plastic baggie and snip a tiny piece off the corner.
Drizzle the melted chocolate over the diagonal lines in the pie top to garnish.