White Chocolate Turtle Bark Recipe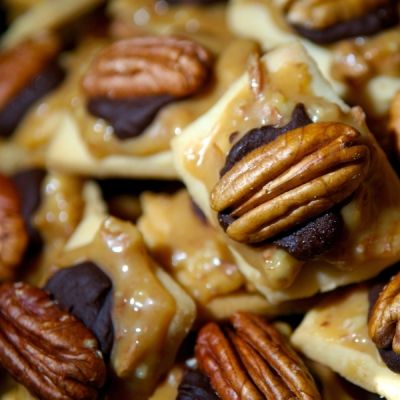 A yummy recipe for White Chocolate Turtle Bark, fit for a special occasion.
Ingredients
Makes (1) baking sheet of bark
White Bark Layer
1 1/2 pounds good quality white chocolate (chopped into small pieces)
Caramel Layer
tools needed: candy thermometer
1 cup milk
1 1/2 cups heavy cream
3/4 cup butter
3/4 cup honey
1 3/4 cups granulated sugar
2 teaspoons pure vanilla extract
1/2 teaspoon salt
1 cup fine chopped pecans
Chocolate Drops
1/2 pound dark chocolate (chopped into small pieces)
Nut Garnish
1 cup pecan halves (more or less, you will place these pecan halves onto the chocolate drops)
Directions
White Chocolate Bark Layer
Line a baking sheet with parchment paper.
Melt the white chocolate in a double boiler over low heat.
Spoon the melted chocolate onto the parchment paper and smooth it out.
Let the white chocolate cool and set completely either on the counter or in the refrigerator.
Cut or break the bark into pieces and place the pieces of white bark onto 2 baking sheets lines with parchment paper.
Caramel Layer
Combine the milk, heavy cream, butter, honey and sugar in a deep saucepan.
Cook over medium heat, stirring. Using a pastry brush dipped in water, brush down any sugar that has crept up the sides of the pan. When the mixture reads 240F. immediately remove from heat, stir in the chopped pecans, vanilla and the salt.
Spoon the caramel mixture onto each piece of white bark.
If it hardens too much to quickly, warm up the caramel enough to use.
Chocolate Drop
Melt the chocolate in the top of a double boiler on the stove top over low heat.
Once is has melted, spoon a little chocolate blob on top of the caramel,.
Place 1/2 of a pecan into the chocolate while it is still warm and soft.
Store bark in a covered container.