White Loaf Cake Recipe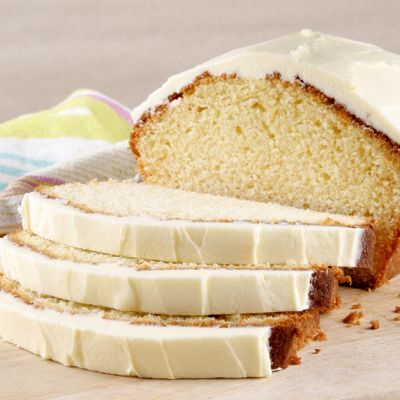 A delicious snack that is great as a coffee cake.
Ingredients
2 cups flour
2 teaspoons baking powder
1 cup butter, softened
1 cup granulated sugar
3 teaspoons vanilla
4 eggs
1 cup milk
Cream Cheese Frosting
2 cups confectioners sugar
1/2 cup cream cheese, softened
1/3 cup butter, softened
2 teaspoons vanilla
Directions
Preheat oven to 350ºF.
Grease and flour large loaf pan.
In large mixing bowl, combine flour, and baking powder.
In separate bowl, beat together butter and sugar until well fluffy.
Add vanilla, eggs, and milk and mix well.
Add flour mixture and beat until well mixed.
Pour batter to greased loaf pan and bake for 50 minutes, or until toothpick inserted in center comes out clean.
Cool before removing from pan onto rack.
Cream Cheese Frosting
In medium bowl, beat together confectioners sugar, cream cheese, butter and vanilla.
Spread evenly over top of cooled loaf cake.