Wild Rice And Cranberry Stuffed Turkey Breasts Recipe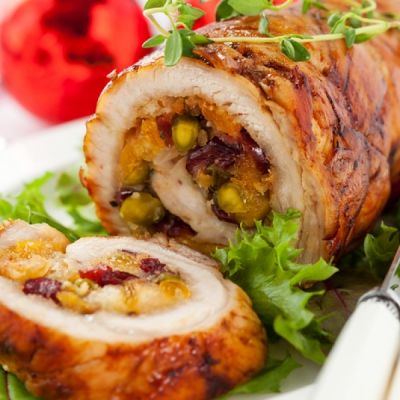 A recipe for Wild Rice and Cranberry Stuffed Turkey Breasts. A great idea for preparing a turkey meal on a smaller scale.
Ingredients
1/2 cup wild rice + ¾ cup water to cook rice in
1/4 cup dried cranberries or cranraisins
1 Tablespoon dried thyme leaf
1 apple peeled and diced
4 teaspoon olive oil, divided
1/4 cup diced onion
1/4 cup died celery
1/4 teaspoon salt
1/4 teaspoon black pepper
1 egg
3-4 pound boneless turkey breast, skin removed, butterflied
1 whole onion, peeled and quartered
12 ounce can unsweetened frozen apple juice concentrate,
or 12 ounces apple cider
Directions
In a small sauce pan, bring the rice and ¾ cup water to boil over high heat. Reduce heat to lowest simmer, cover, and cook until the rice is fully cooked.Remove from heat transfer the rice to a mixing bowl andstir in the cranberries, thyme, and apple, and set aside.
In a large frying pan, heat 2 tablespoons of oil, and sauté the diced onion and celery for 2-3 minutes. Add the vegetables into the rice and mix well. Season to taste with salt and pepper.
Lightly beat the egg, and add it to the rice. Stir to combine, then set the rice mixture aside to cool completely.When the rice mixture is cool, unfold the turkey breast on a board, with the inside facing up, being sure to open all of the flaps.Spread the rice mixture evenly over the turkey.
Starting atone end, roll the turkey as best you can and tie with kitchen twine to hold the meat together. Season lightly with salt and pepper.
Add the remaining oil to the frying pan, and brown theturkey on all sides. Transfer to a 5 or 6 quart slow cooker, along with the quartered onion and all of the apple juiceconcentrate or cider.
Cover and cook on HIGH for 1-¾ to 2 hours, or until athermometer measures 165°F when inserted into the center of the turkey.
Remove the turkey from the slow cooker, and cover with foil. You can strain the liquid and boil it down in a small sauce pan, to make a gravy if desired.Serve warm.