Yellow Apple Cake Recipe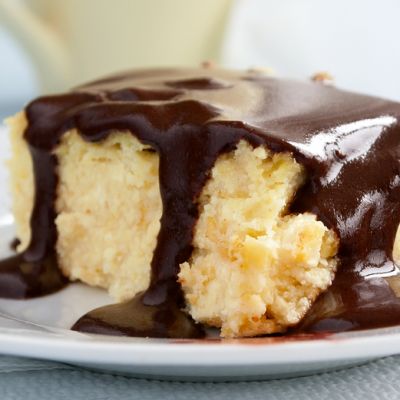 This yellow apple cake recipe makes a 9x13 inch simple to do cake, with a homemade chocolate sauce. This smells delicious when it is baking!
Ingredients
Cake
4 medium sized apples (any baking apple will do)
1 1/4 cup grape seed oil
1 cup granulate sugar
3 large eggs
3 cups all purpose flour
1 teaspoon ground cinnamon
Chocolate Sauce
2 cups dark chocolate chunks, or melting wafers
1 cup whipping cream
Makes about 2 cups of sauce
Directions
Preheat oven to 350 degrees F.
Grease a 9x13 inch baking pan.
Peel, core and slice the apples into small pieces and place into a bowl. Set aside.
With an electric mixer, beat the oil, sugar and eggs together until creamy. Fold the flour and cinnamon into the egg mixture.
Stir in the sliced apples until well blended.
Pour the batter into the pan and bake for 45 minutes to 1 hour until golden.
Remove and place onto a cooling rack.
Chocolate Sauce
Chop up your chocolate, and place in the top of a double boiler, or a bowl with a pot filled with a bit of water.
Using low heat melt chocolate, and add cream while chocolate is melting.
Use more cream if you want a thinner sauce, or less for thicker.
Assembly
Spoon on the chocolate sauce when you cut and serve the cake.