Yogurt Cheesecake Recipe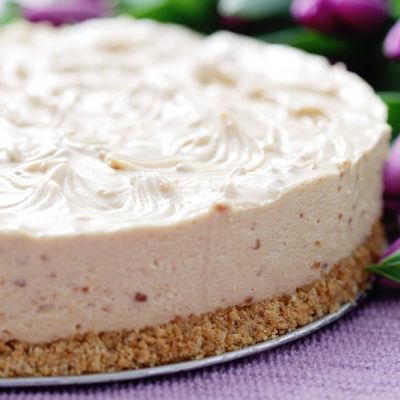 This yogurt cheesecake can be made with or without a crust. We give you the recipe for a nut crust that is just the perfect flavor with this cheesecake.
Ingredients
Nut Crust
3/4 cup walnuts
3/4 cup hazelnuts
3/4 cup almonds
3/4 cup pecans
1/2 cup butter, melted
1/4 cup flour
Cheesecake
1 cup cream cheese
1 cup Greek yogurt
1 Tablespoon butter
1/2 cup granulated sugar
2 eggs
3 Tablespoons flour
1 teaspoon lemon juice
Serves 6 - 8
Directions
Preheat oven to 350F.
Grease a 10 inch springform pan with coconut oil.
Nut Crust
In a food processor finely chop up walnuts, hazelnuts, almonds and pecans. Add in butter and flour, blend up until well combined.
Place nut mixture into bottom of prepared Spring form pan and press down to form a base.
Bake for 12 minutes. Let cool.
Cheesecake
Beat together cream cheese, yogurt, butter and sugar, until light and creamy. Add eggs one at a time, and beat into mixture after each addition. Mix in flour and lemon juice, till its just combined.
Pour filling into prepared spring form pan. Bake for 50 - 60 minutes. Let cool. Chill in refrigerator until your ready to serve.