Yummy Cake With Marshmallow Filling Recipe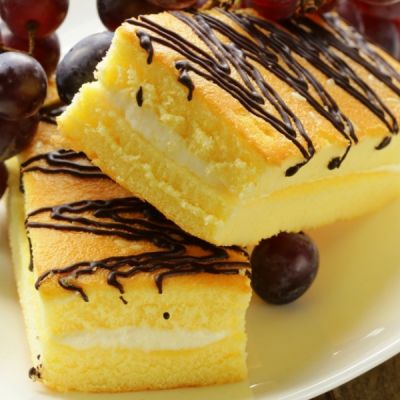 A recipe for a yellow cake filled with creamy marshmallow.
Ingredients
Yellow Cake
2 3/4 cups all-purpose flour
2 1/2 teaspoons baking powder
1 teaspoon salt
1 1/2 cups sugar
1/2 cup butter
2 eggs
1 1/2 teaspoons vanilla
1 1/4 cups milk
Marshmallow Filling
1/2 cup butter
2 cups powdered sugar
2 teaspoons vanilla
pinch salt
1 jar (7 1/2 ounces) Marshmallow Fluff or Marshmallow Creme
Chocolate Drizzle
1 cup dark chocolate chips
Directions
Cake
Preheat oven to 375 degrees F.
Grease a 7 by 11 inch baking dish.
Combine flour, baking powder and salt together in a bowl.
In large mixing bowl cream sugar and butter until light and fluffy. Add eggs and vanilla; beat well. Add flour mixture to creamed mixture alternately with milk, beating low after eachaddition.
Pour batter into the greased baking dish and bake for 30 to 35 minutes or until toothpick inserted in center comes out clean.
Cool cakes in pans on wire racks for 10 minutes then removecake from pans.
One completely cooled, slice the cake in half to create the two layers.
Filling
Cream together shortening or butter and the sugar until light and fluffy. Add vanilla, marshmallow and enough milk to make a fluffy filling. Beat until well blended.
Spread onto one side of the cake, put the top on and cut into pieces.
Drizzle
Melt chocolate chips in the top of a double boiler over medium heat stirring as they melt.
Do not get a drop of water into the chocolate or the texture of the chocolate will be destroyed.
Once melted, let it cool a little then either put into a piping bag or put the melted chocolate into a plastic bag, cut a tip off the corner and garnish.