Zucchini Apple Muffins Recipe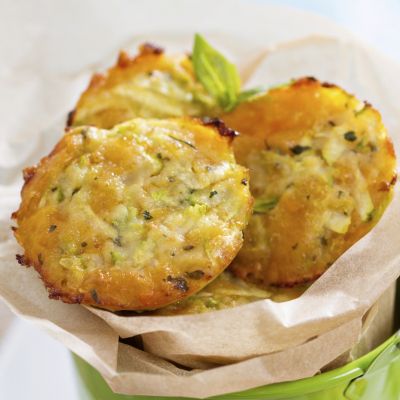 This zucchini apple muffin recipe makes a great morning quick breakfast on the run or a snack in the afternoon.
Ingredients
3 cups grated zucchini
1 cup apple, peeled, cored and grated
1/2 cup flax seeds
1/4 cup chopped almonds
2 teaspoons fresh orange zest
2 1/2 cups all-purpose flour
1 cup sugar
1 teaspoon baking soda
1 teaspoon baking powder
1/4 teaspoon salt
2 large eggs, lightly beaten
1/2 cup vegetable oil
1/2 cup milk
1 teaspoon vanilla
Directions
Pre-heat oven to 375F.
In a large bowl, combine zucchini, apple, flax seeds, almonds and orange peel; set aside.
In a separate bowl, combine flour, sugar, baking soda, baking powder and salt.
In new bowl, combine eggs, oil, milk and vanilla; stir into dry ingredients just until moistened.
Add zucchini mixture and stir briefly until just combined.
Fill greased or paper-lined muffins cups two-thirds full with muffin mixture.
Bake for 20-22 minutes or until a toothpick comes out clean.