Zucchini Lasagna Recipe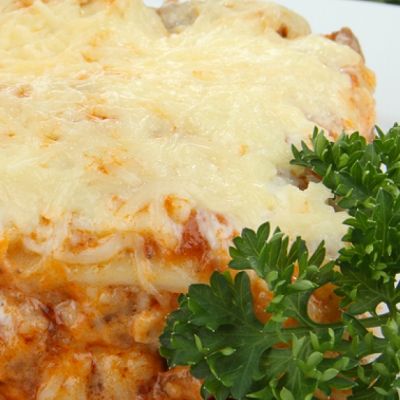 This zucchini lasagna recipe has no noodles in it. Instead you make the noodle layer from the zucchini. Choose medium to larger size zucchini to make this dis.
Ingredients
4 Tablespoons olive oil, divided
6 cups peeled and sliced zucchini
3 garlic cloves, minced
1 lb ground beef
2 cups spaghetti sauce
1/2 teaspoon salt
1/2 teaspoon dried basil
1/2 teaspoon dried oregano
2 cups cottage cheese
1 Tablespoon dried parsley
2 large eggs, lightly beaten
1/2 cup dry breadcrumbs, divided
1 3/4 cups shredded mozzarella cheese, divided
(Serves 4)
Directions
Preheat oven to 350°F.
In a large skillet set over medium-high heat, heat 2 tablespoons olive oil.
Add zucchini and cook 3 minutes until just tender. Be careful not to over cook.
Remove from heat and set aside.
In the same skillet, heat another tablespoon of olive oil.
Add the garlic and cook for 30 seconds, until fragrant.
Add the ground beef and cook until browned, stirring to break up larger chunks of meat.
Once the beef is browned, add the spaghetti sauce, salt, basil, and oregano. Allow the sauce to simmer, covered, for 15 minutes. Stirring occasionally.
Meanwhile, combine the cottage cheese and parsley in a medium bowl. Stir in the eggs and mix until well combined.
To assemble the lasagna, ladle a small amount of sauce into the bottom of a 9 x 13 inch baking dish.
Lay one layer of zucchini slices over the sauce in the baking dish.
Sprinkle over 1/4 cup of the breadcrumbs.
Evenly spread half of cottage cheese mixture over the breadcrumbs.
Evenly spread over half of the meat mixture.
Top with 1 cup of the mozzarella cheese.
Repeat the same layering with the remaining ingredients, finishing with a later of sauce. Reserve the remaining mozzarella for later.
Transfer the lasagna to the preheated oven and bake for 40 minutes.
Remove from oven, sprinkle over the remaining mozzarella cheese and return to the over to bake until the cheese melts, about 5 minutes.
Broil for 3 minutes if you wish to brown the cheese.
Allow lasagna to sit for 5 minutes before serving.